Roof Trusses
Step 12. Installing The Roof trusses.
Once your main structure is in place you're on to the roof trusses which will support your roof and also bring strength to the rest of the house. There are many different roof types and the process differs depending which your home adopts.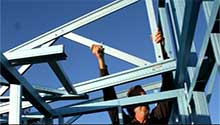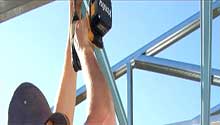 The Installation Process
When installing trusses you will have specifically designed plans to suit your house. There are many different processes and techniques for the different kinds of roof framing and your home may even combine a variety of types. Regardless of what truss system you may be working with the following process will generally apply.
Fix carport roof and porch beams if required.
If any gable ends have overhang, attach overhang frames to trusses before erecting.
Stand trusses as per construction plans starting Girder trusses and Dutch gables where applicable.
Fix binders to bottom truss chords nog on all trusses.
Brace up roof where required.
Attach roof battons (Colorbond roof only)
Position verandah rafters, beams and columns if verandah included. Also overhang frames if required.
Attach roof batten to verandah.
Fix ceiling battens to house, verandah and carport if required.
Lay in Valley support brackets and Velley if required.
Previous Step
|
Next Step