Roofing
Step 13. Laying The Insulation and Roof.
In this stage we recommend hiring a professional roofing company. They'll lay fibreglass insulation blanket over the roof battens and your roof covering will go on. You'll also confirm that the roof is waterproof by fixing flashings and ridging. Steel or Concrete roof tiles must be fixed by the supplier.
The Process
Fix Fascia brackets and steel fascia to ends of trusses and gable ends.
Attach gutters (don't forget to fix in downpipe drops)
Lay fibreglass insulation blanket over roof battens (foil side and fibreglass up).
Fix roof sheeting
Cut and fix ridging. (Check bottom pans of roof sheet are turned up before fixing ridging)
Fix all flashings and make sure roof is waterproof.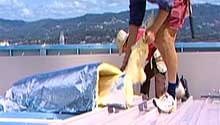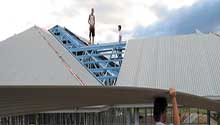 Frame Stage Inspection
This inspection is to be done when the frame is completed, before plastering and after all bracing and tie-down components are in place.
Inspections will include checking for things such as:
- Layout as per plan
- Bracing
- Tie down
- Point loads
- Compliance with the approved documentation
WORK CAN NOT CONTINUE TO THE NEXT STAGE UNLESS A FORM 16 STAGE CERTIFICATE HAS BEEN ISSUED BY THE CERTIFIER OR THE REGISTERED ENGINEER.