P.C. (PERSONAL CHOICE) ITEMS
Step 20. PC (Personal Choice) Items.
Now that the straight "construction" things are out of the way, it's time to get those personal choice items installed. Kitchens, baths, vanities and other fixed fittings are installed. Many owner builders buy these types of items flat packed and install them personally.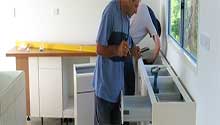 a. Make sure that all door locks, handles and cupboard catches are fitted as per manufacturer's specifications.
b. The cabinetmaker can now supply and fit your kitchen, bench top and sink. It is a wise move to have your cabinetmaker do the full job as it is very important that it is fitted correctly. Also if some small part is not fitting properly, they can sort it out. Take your sink top to the cabinetmaker when you place your order, so as he can cut the bench top to suit and fit the sink top in the factory. If the cabinetmaker is making your vanities, he can fit these as well.
c. The laundry tub and cabinet can now be installed. The cabinet will fit into the corner and fit into place.
Previous Step
|
Next Step