Mouldings
Step 19. Installing Mouldings.
Much easier than internal linings, the cornice is relatively simple to install. In this stage you will also take care of your internal door mouldings and skirting. Not may owner builders get sub-contractors to install these as it is very simple to do yourself.
The Moulding Process:
Install all internal doors (check for plumb).
Fix all windows and sliding door architraves.
Fix all skirting.
Fix timber supports in cupboards.
Fix all shelving.
Unlike with timber homes, the move to lighter gauge materials and boxed sections in the steel frames allows the use of new nailing techniques or cheaper needle point screws. Nailing, or a combination of nails and screws may also be used depending on the application.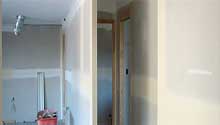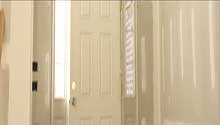 Skirting
Serves as a trim between walls and floors which hides any gaps between the two surfaces.
Architraves
Serves as a trim around door frames, windows or wall openings in which no doors are hung, hides the gap between wall lining and door-jamb/window frames.
Chair Rail
Originally designed to protect walls from "chair back" damage, chair rail is now used primarily decoratively. It is generally affixed at a height of 900mm - 1000mm.
Dado Rail
(dado cap) - Dado rail is generally affixed between 900mm - 1500mm in height to cover the exposed top edges of timber panelling boards fitted vertically to the lower portion of the wall.
Picture Rail
Fixed horizontally and running high around the perimeter of a room, the "hanging" function is facilitated by means of a formed metal hook which securely locates over the uppermost rounded surface of the picture rail.
Previous Step
|
Next Step