Painting
Step 23. Painting internal and external walls.
It's now time to paint your home. Probably one of the easiest steps in building yet getting it right can mean the difference between an amazing looking home and a very average looking home. Read up on the best techniques and start your painting in the most inconspicuouse areas. Paint shops have DIY guides to help you.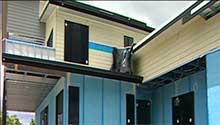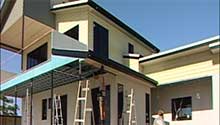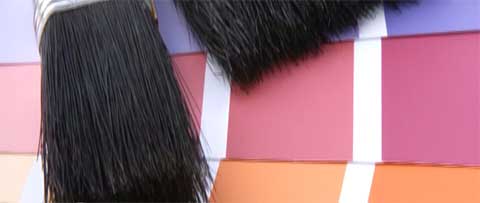 Colours and Ideas
By this time you'll probably already know what colours you'll be painting your home. If you haven't, it's probably best to visit your local paint shop to select colours. Many paint shops will even match colours if you have something in the colour you want.
There are also a number of other options such as wall paper and special finishes that you can find through your local paint shop. These finishes can make your home look even more special.
Feature walls are another great way to make your home look even more appealing.
If you're planning on selling your home once it's finished then it's probably best to keep colours simple and neautral to appeal to the most amount of people. Black or dark grey wall and ceilings in select areas are very popular at the moment.
Just remember though, at the end of the day it's only paint so you can always go over it. The most important part is making sure the finish is smooth because removing paint can be a very painful process.
Scaffolding
If you're painting a two story or elevated home and you require scaffolding to reach parts of the home then it is smart to start the painting process externally as soon as possible to save on extra scaffold hire.
Safety First
Although painting can be a very simple stage of the buildingn process it is advised to take caution when dealing with these products.
Take care with reaching high places - ensure you wear safety supports
Always wear face masks when working in super confined spaces
Try to ventilate small areas to make sure excess fumes are not inhaled
Cover flooring or important items below.
Previous Step
|
Next Step