Siting your new home
&nbsp
Story: Anita
2020-04-02 13:52:07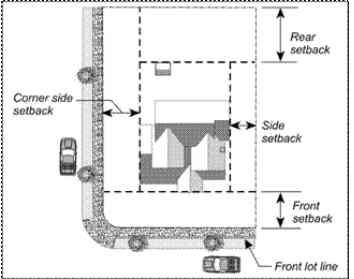 &nbsp
Siting your new home

There are many things to take in to consideration when deciding where to site your new home on your block. Although a great view is important, attention is also required for many other factors to ensure you maximise your homes performance whilst complying with local regulations.

Here are a few of the main points that should always be addressed before your plans are finalised.

Setbacks
These are the legal distances you need to be from the boundary lines of your property. There is no set rule, and this will change depending upon your local council's regulations. When building on a smaller block a setback will determine the size of your building envelope.

Not only are there boundary setbacks to consider, but also underground services such as power and water. If you are on acreage and require a septic system, then setbacks will apply surrounding the system.

Some properties may have a covenant on them that can be made by the developer, local council or services. This means there are set areas on the block where a setback applies or where there are restrictions and specialised building methods may be required.

Always check setbacks before finalising your plans, it is also useful before purchasing your block to ensure your home can go where you have envisioned.

Solar orientation
Some of us like to wake with the sun and others like to sleep in. Consider which rooms should be sunny and which rooms shaded and at what times of the day.

In many areas an energy efficiency report is required and maximising the solar orientation for both heating and cooling has a considerable impact on the overall efficiency of your home.

If you are thinking of adding solar panels then you will want to orient the panels to capture optimal solar gain.

Wind
Is your site elevated and windy? Give thought as to where the wind is at its strongest and where it is most sheltered? Trees, courtyards and walls can all create comfortable places even on a windy site and should all be considered.
Landscape Elements including tall hedges and trees can help break the wind and offer shade on hot days. Give thought to existing mature trees when siting your home as this may save you time and money. Also remember that smaller, immature trees near the house will grow up to be large one day having an effect on the light and warmth of the home as they grow.

Contour
If your block has a slope you should consider more than just a great view and give thought to earth works, drainage, underground services and future landscaping.

The contour of the block will have a big impact on the footings of your home and its final design.

Views
When giving thought to your views it is a good idea to do a mental walkthrough of your home, room by room paying special attention to the living areas. What do you want to see at breakfast sitting at your dining table or at night out on the deck? Can you see or be seen by neighbours? The placement of the house on the block and the placement of rooms in the house should consider views both looking in and out.

Noise levels
Neighbouring homes and busy streets impact your living experience and even the resale value of your home. Think about the source of noise and consider what part of the house faces the source. Since sound travels through windows more easily than walls, consider how many windows you want facing a noise source.

Future structures
Are you thinking about adding a garden shed or workshop, granny flat or maybe a swimming pool? Consider the location of any future structures when you site your house. Starting with a specific house plan and trying to shoe-horn it into a site later can cause challenges and become costly.

As you can see there are some necessary points that should be considered before committing to the final siting of your new home.




&nbsp